Country Chef Chicken Pot Pies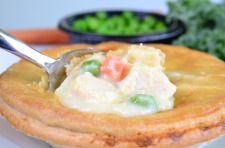 Nothing says comfort food like a warm pot pie. These pre-made fully cooked pot pies provide easy lunches or dinners for those looking to have the taste of homemade without taking the time to make homemade. Priscilla's and Country Chef offer our quality and fresh made pot pies to the retail and food service industries.
We offer tweo sizes of Country Chef Branded Chicken Pot Pies. An individual 9.5 oz. serving and a family size at 24 ozs. Give your customers options to pick what's best for their families or what reminds them of grandma's homemade pot pie.
We fill our flakey, honey crust full of chunky all-white meat chicken., peas and carrots in a rich, creamy sauce and bake until golden brown. The homemade look and taste are exactly what your customers are looking for.
As a family-owned business, we understand that your customers want to serve their families healthy and delicious options, and Carando Gourmet can help with our single serving and family-sized pot pies.
| | | | | | | | | | | | |
| --- | --- | --- | --- | --- | --- | --- | --- | --- | --- | --- | --- |
| Country Chef Pot Pies - Retail | Item | Pack | Net Wt. | UPC Code | Tie | Hi | Ct | Long | Wide | High | Cube |
| Country Chef Chicken Pot Pie | #00327C | 24-9.5 oz. | 14.25 lb. | 0 38058 00327 8 | 6 | 9 | 54 | 21.750 | 11.187 | 6.125 | 0.862 |
| | | | | | | | | | | | |
| Country Chef Chicken Pot Pie | #00323C | 8-24 oz. | 12 lb. | 0 38058 00323 0 | 10 | 8 | 80 | 16.687 | 8.687 | 6.437 | 0.540 |
| | | | | | | | | | | | |
| | | | | | | | | | | | |
| --- | --- | --- | --- | --- | --- | --- | --- | --- | --- | --- | --- |
| Country Chef Pot Pies - Food Service | Item | Pack | Net Wt. | UPC Code | Tie | Hi | Ct | Long | Wide | High | Cube |
| Country Chef Chicken Pot Pies 9.5 oz | #00325 | 24-9.5 oz. | 14.25 lb. | 0 38058 00325 4 | 6 | 9 | 54 | 21.750 | 11.187 | 6.125 | 0.862 |
| | | | | | | | | | | | |
| | | | | | | | | | | | |
| | | | | | | | | | | | |
| | | | | | | | | | | | |
| | | | | | | | | | | | |
| | | | | | | | | | | | |