Country Chef & Priscilla's Quiches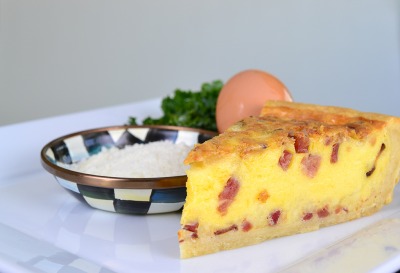 Priscilla's & Country Chef bring you our take on a line of quiches that includes both the classics and our own unique creations. Our quiches offer a homemade quality and look that is sure to attract attention.
Quiches are made with eggs and milk or cream and cheese, meat, or vegetables. We do not use any fillers such as mayonnaise in our quiches like some of our competition does. We only use what you would use at home if you were making them yourself. Our pre-made fully cooked quiches are great options for customers who want a healthy meal to share with their families. With so many options to choose from, everyone in the family is sure to be pleased with our homemade-style quiches.
We offer two styles of quiches: Country Chef branded shallow quiches and our unique artisan style Priscilla's Deep Dish Quiches. Priscilla's Deep Dish Quiches are Pre-sliced into a 5 - 6 oz. slices per half. Or 20 slices per case. Each of these comes in a variety of flavors like Quiche Lorraine, Spinach and Tomato and our original Artichoke, Spinach and Roasted Rep Pepper.
Let your customers wow their guests with delicious and high quality prepared quiches that look and taste just like homemade. Quiches are great for breakfast, brunch, or parties, and with our wide variety of flavors, customers can choose which ones they would like to serve.
6.875?
| | | | | | | | | | | | |
| --- | --- | --- | --- | --- | --- | --- | --- | --- | --- | --- | --- |
| Country Chef Shallow Quiches | Item | Pack | Net Wt. | UPC Code | Tie | Hi | Ct | Long | Wide | High | Cube |
| Country Chef Broccoli & Cheddar 10 oz. Quiche | #10919C | 18 - 10 oz. | 11.25 lb. | 0 38058 10919 2 | 14 | 7 | 98 | 18.875 | 6.875 | 8.250 | 0.497 |
| Country Chef Broccoli & Cheddar 24 oz. Quiche | #10915C | 4 - 24 oz. | 6 lb. | 0 38058 10915 4 | 10 | 16 | 160 | 18.937 | 9.625 | 3.375 | 0.356 |
| Country Chef Quiche Lorraine 10 oz. Quiche | #10917C | 18 - 10 oz | 11.25 lb. | 0 38058 10917 8 | 14 | 7 | 98 | 18.875 | 6.875 | 8.250 | 0.497 |
| Country Chef Quiche Lorraine 24 oz. Quiche | #10912C | 4 - 24 oz | 6 lb. | 0 38058 10912 3 | 10 | 16 | 160 | 18.937 | 9.625 | 3.375 | 0.356 |
| Country Chef Spinach & Tomato 10 oz. Quiche | #10918C | 18 - 10 oz | 11.25 lb. | 0 38058 10918 5 | 14 | 7 | 98 | 18.875 | 6.875 | 8.250 | 0.497 |
| Country Chef Spinach & Tomato 24 oz. Quiche | #10914C | 4 - 24 oz | 6 lb. | 0 38058 10914 7 | 10 | 16 | 160 | 18.937 | 9.625 | 3.375 | 0.356 |
Priscilla's Deep Dish Quiches
Item
Pack
Net wt.
UPC Code
Tie
Hi
Ct
Long
Wide
High
Cube

Pre-sliced 5 - 6 oz. Per Half Moon

20 - 6 oz. Sliced Per Case

Priscilla's Quiche Lorraine
#11989
4 - 30 oz.
7.5 lb.
0 72656 11989 4
12
10
120
10.625
10.625
4.875
0.318
Priscilla's Artichoke, Spinach, & Roasted Red pepper
#11981
4 - 30 oz.
7.5 lb.
0 72656 11981 8
12
10
120
10.625
10.625
4.875
0.318
Priscilla's Spinach & Tomato
#11971
4 - 30 oz.
7.5 lb.
0 72656 11971 9
12
10
120
10.625
10.625
4.875
0.318